Activities
October 27th 2023
Discovering Les Saisies
Take it to the next level at the Amaya residence, located with ski-in, ski-out access on the Carrets slope in Les Saisies.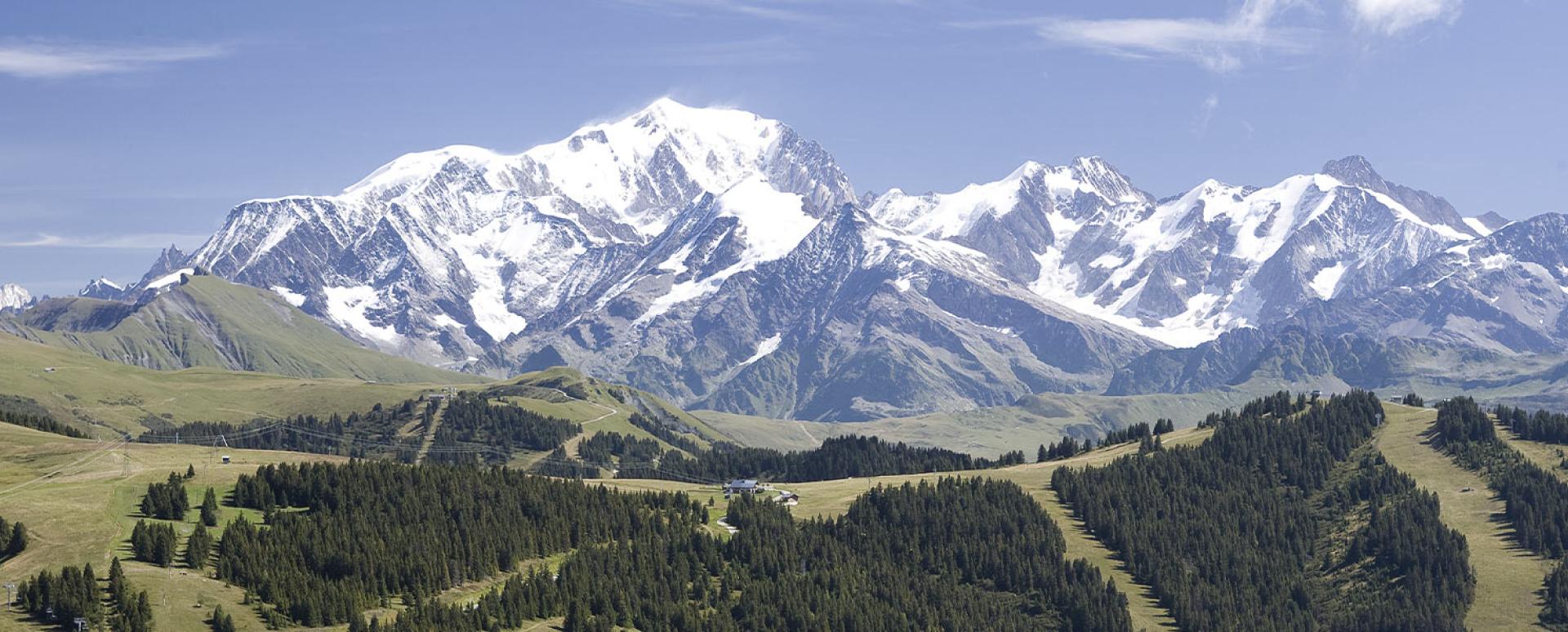 With its stunning panorama facing the Mont-Blanc, the village resort of Les Saisies enjoys an exceptional location all around the year. Located in the heart of a protected area, nature can express itself in complete freedom. It is perfect resort for family, sporty or stroller.
On land, on water or in the air, a multitude of activities waiting for you during the summer at Les Saisies.
The iconic dam at Roselend, the Beaufort cheese-making process and the history of Les Saisies during the Resistance will delight nature and cultural heritage enthusiasts. For strong sensations lovers, you won't be left out, between canyonning, paragliding and downhill mountain biking, you'll find what you're looking for. Les Saisies also offers a wide range of hiking opportunities with 38 trails through the mountains pastures and surrounding mountains.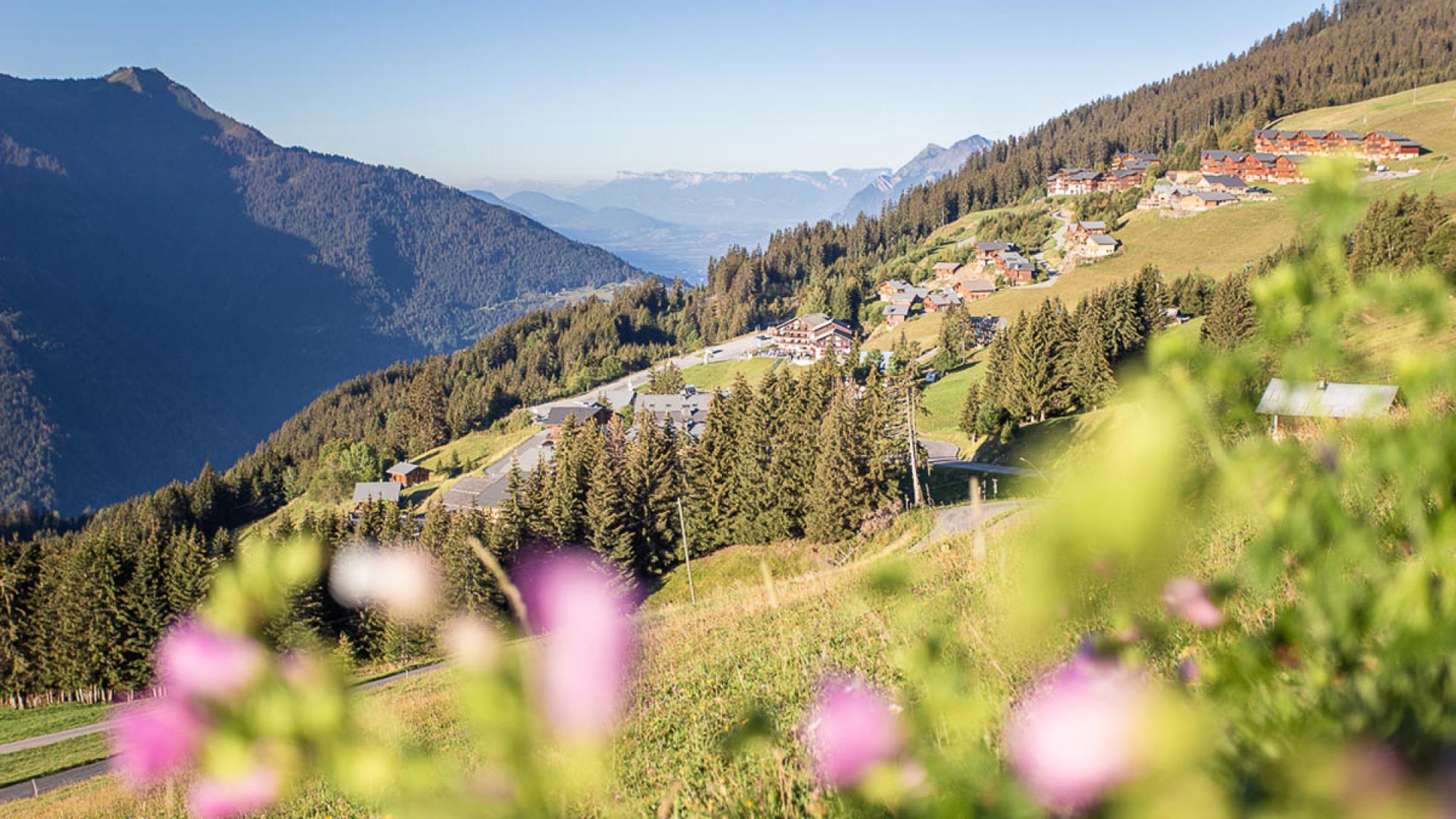 OUR FAVOURITE WALKS
Le Tour de La Legette (green level)
This circular walk offers a 360-degree view of the surrounding mountains and valleys. It's a very pleasant way to warm up and get ready for more vigorous hikes or simply a family outing of discovery and relaxation rewarded by a superb picnic of freshly baked bread, charcuterie and delicious Beaufort cheese from the market.
Features
Departure: Aquasportif Center Le Signal
Duration: 2h
Distance: 7.4 km
Drop: 230m
Le Tour du Mont Bisane (blue level)
This looping hike through mountains pastures, forests and mountain chalets offers breathtaking views of the surrounding mountains. On the way out, let yourself charming by Roselend, Le Mirantin and Les Bauges. Take a few minutes at La Croix de la Coste to enjoy the panorama, and may be treat yourself with a gourmet break. On the way down, you will see Le Massif des Aravis taking shape in front of you and the one that needs no introduction : Le Mont-Blanc. And don't forget to look out for the marmots along the way.

Features
Departure: « Sous Bisanne » carpark
Duration: 3h
Distance: 7 km
Drop: 300 m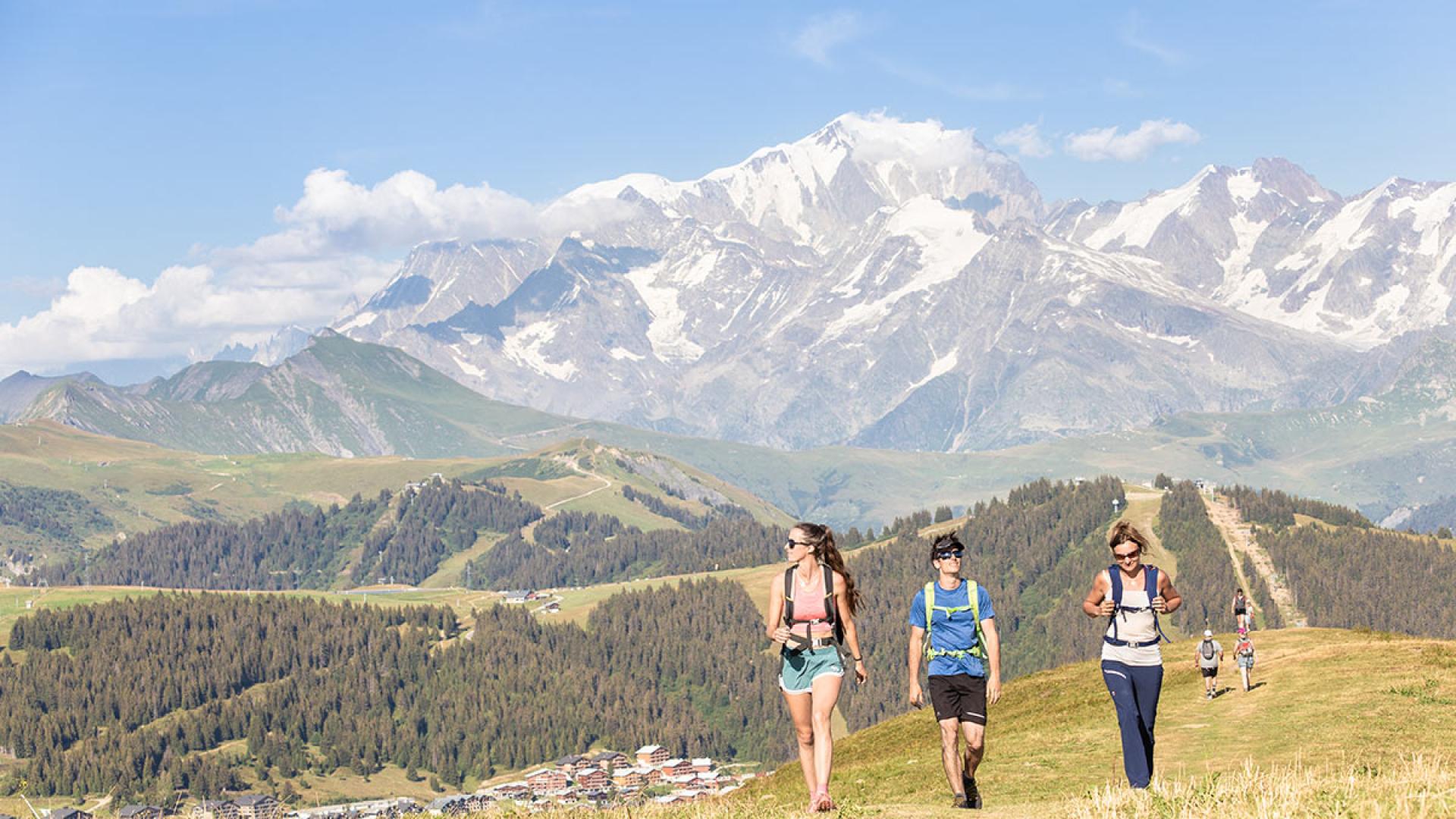 Le Mont Vorès (red level)
This hike is a must if you want to enjoy a magnificient panorama. At an altitude of 2,000 metres, the walk is like a large balcony with a view on the differents massifs : Le Mont-Blanc, Beaufortain and Les Aravis. With no steep slopes, except for a steeper section leading to the foot of an imposing white cross, you will still need to be resilient on this 17km trail, but it's a promise : the horizon will make you lose all sense of time and distance.
Features
Departure: Parking station ou col de La Lézette
Duration: 6h
Distance: 17 km
Drop: 550 m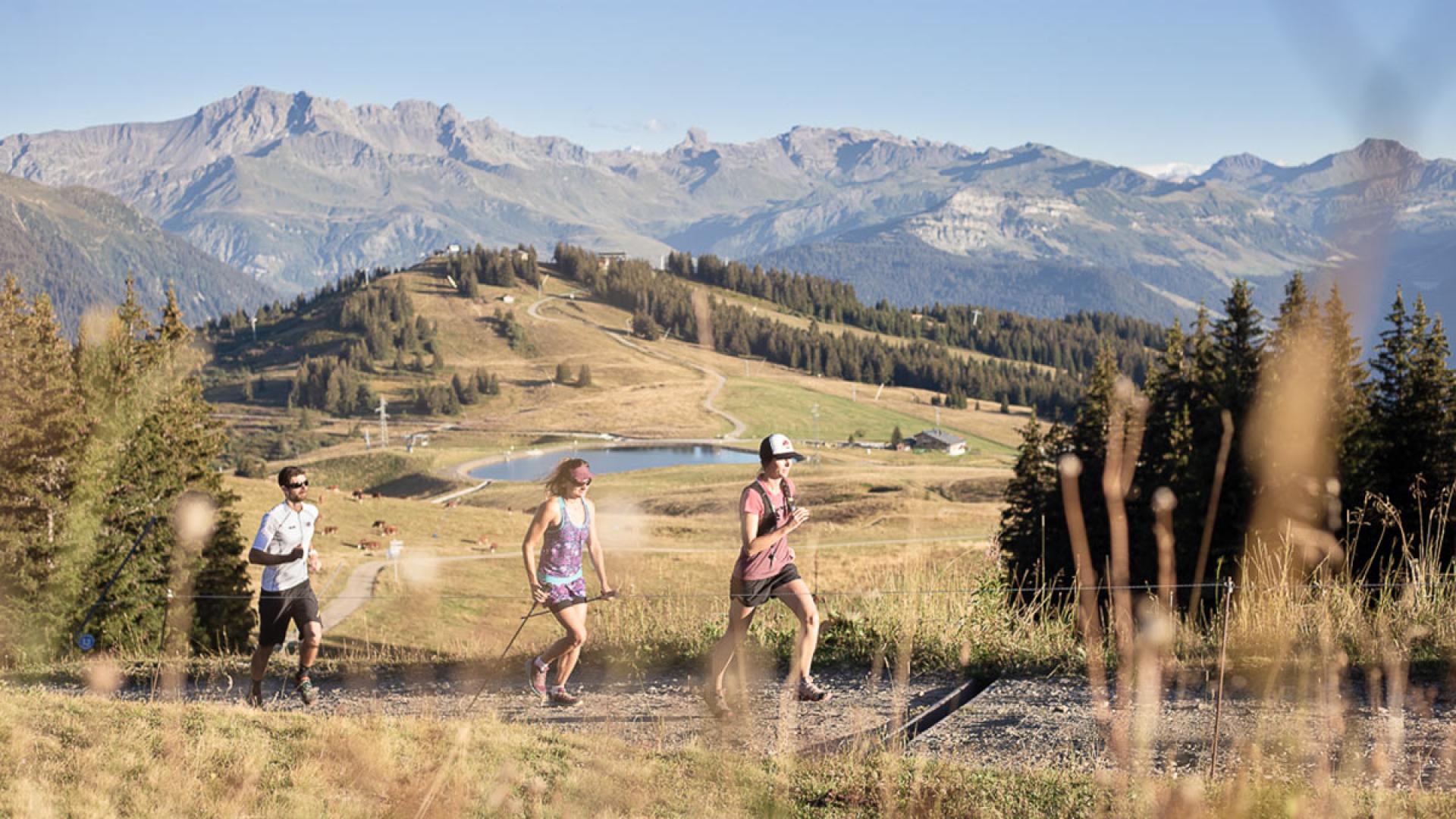 Summer events and activities at Les Saisies
From 1st July to 31st August – Local Market
Enjoy the local market located in the Challiers car park. This is your chance to discover local products, fill up your bag with gourmet things before a walk and stroll through the stalls.
Sunday, 9th, July – Trail Bambée des Saisies
Alone, in pairs or in relays, don't miss this summer's essential event, Le Trail bambée des Saisies. This trail offers stunning panoramic views around Les Saisies with Mont-Blanc in its sights. There is even a race for the kids at « La Bambée des Marmots ». For those who prefer to support and chant the name of their hero of the day, there's a snack area to keep you waiting until the runners arrive.
Saturday, 15th, July – Tour du Mont Blanc Cyclo
For cycling fans or purists of sporting feats, Le Tour du Mont-Blanc Cyclo is a 330km race across three countries : France, Switzerland and Italy. With the start and finish at Les Saisies, you can come and witness the almost extraordinary efforts of the athletes.
Sunday, 23rd, July – Fête du bois et du bûcheronnage
Let's get together around a warm, noble and traditional element : wood. La Fête du bois et du Bûcheronnage. It's a great opportunity to get together around games and fun activities that will delight young and old, but also to put a profession in the spotlight : woodcutter. You also could attend to workshops on the biodiversity of our forests, an opportunity to raise awareness among the young and old aloke. All in a festive, warm and gourmet atmosphere.
Tuesday, 15th, August – Fête du Beaufort  
Beaufort, a cheese with an inimitable flavour and subtle aromas, is in the spotlight at this « not-to-be-missed » event. Highlighting the pastoral culture and Savoie region's flavour, discover or rediscover tastes that will make your taste buds tingle.
Sunday, 20th, August – La Régal'ade
This epicurean loop will take you snake between taste, sight and sound pleasures. By bike on by walking, come and discover the most beautiful panorama on a 5 to 20km trail, according to your mood. If you're born as a gourmet, nature lover and sporty this event ticks all the cases for a successful day. Gourmet breaks, musical and cultural entertainment will punctuate this beautiful Sunday.
And to end up your day, nothing better than a visit to the wellness area in our 4**** stars Amaya residence. From the swimming pool to the hot tub and hammam, this is just an overview of the benefits you can provide to your body and mind. Spa Montagnes du Monde® area offers an unforgettable interlude with scrubs, body treatments, massages and all the other services that will leave you in an unrivalled state of well-being.
Take advantage of our latest availability
to book your stay at Amaya residence