SPA MONTAGNES DU  
MONDE®

Your mountain spa in our prestigious residences and hotels
Open the doors of our Spa Montagnes du Monde® centres and let yourself be guided by the gentle atmosphere. Our centres are divided into two areas: the well-being area with swimming pool, hot tub, sauna, hammam, Nordic bath... to bring you relaxation, serenity and peace. In the treatment area, in the hands of our passionate and caring teams, set off on a journey of relaxation and sensory pleasure. The Pure Altitude© skincare line, formulated from alpine plants with rich, powerful active ingredients, is used in all our treatments and beauty rituals, extending your mountain experience right through to your personalised massage.  
Our Spa Montagnes du Monde® centres are open to residents of our establishments as well as to external clients, who are offered one hour's access to the relaxation area when booking a treatment of 50 minutes or more.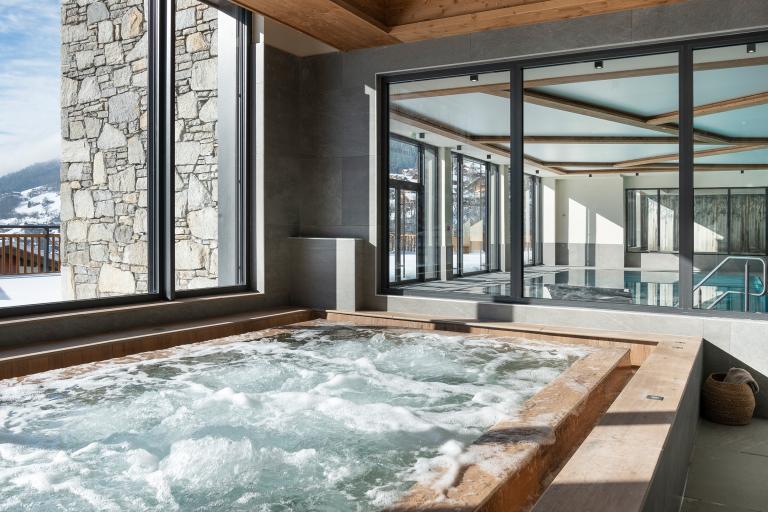 Hot Tub

Heated to 34°C, the gentle bubbles provide a soothing massage, helping you release accumulated tensions. Suitable for both adults and children, hot tub are as relaxing as they are fun to experience.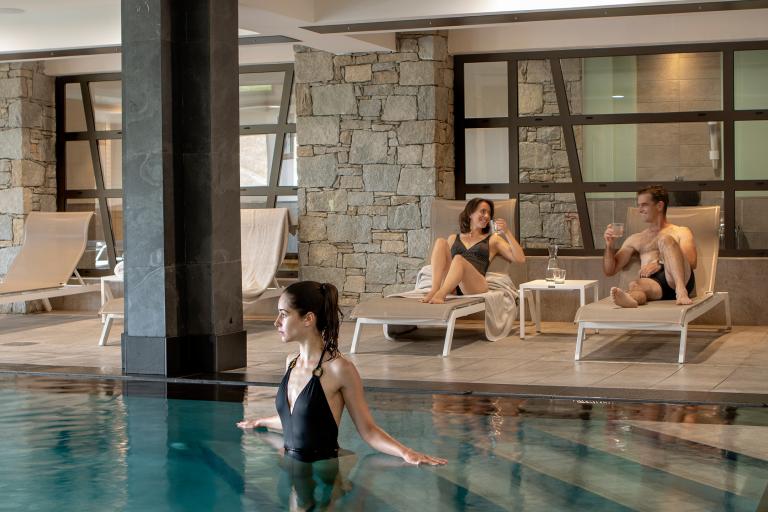 Infinity Pool

The spacious pools at our residences are heated to 28°C, bathed in light thanks to the large surrounding windows, the indoor and outdoor lounges invite you to relax.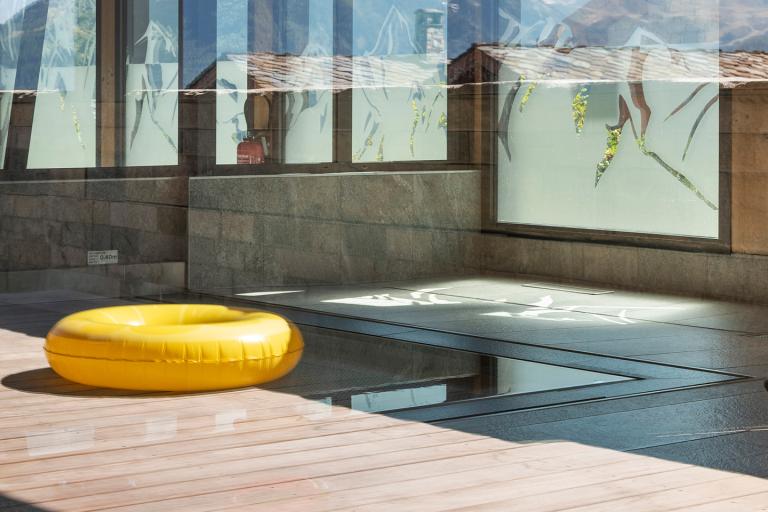 Children's Pool

Designed for the little ones, this pool allows children to play safely right next to the main pool. This way, you can enjoy this special moment to swim and relax while keeping an eye on your children.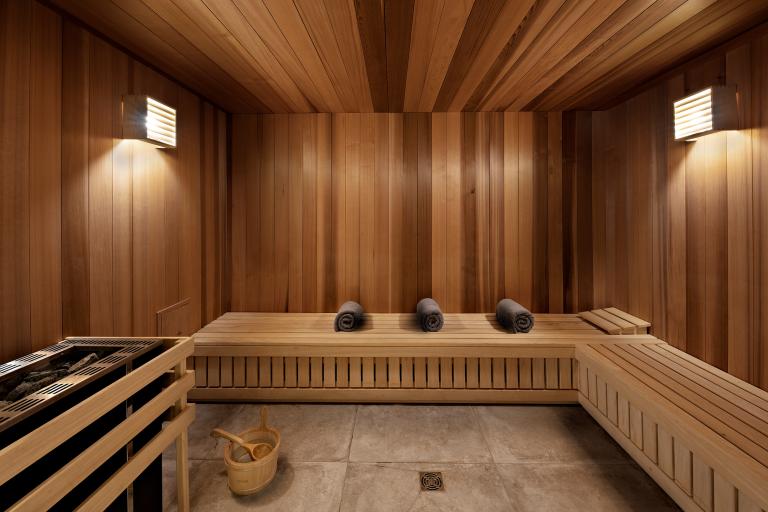 Sauna

With its dry heat, the sauna is ideal for relaxation and relax, especially after a mountain excursion or a day of skiing. With its many benefits for the body and mind, this space will become your new beauty secret.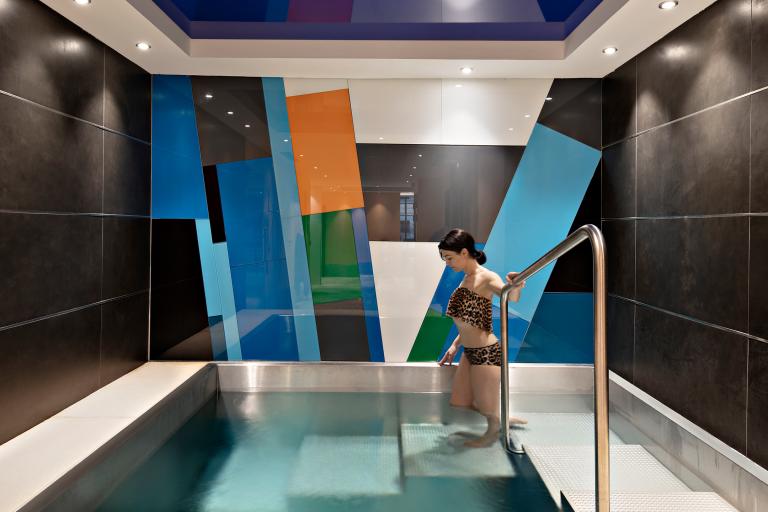 Nordic Bath
Thanks to its water temperature ranging from 4 to 6°C, the cold bath provides a invigorating effect on the body. It's ideal after hammam or sauna session, as the effects of the Nordic bath directly impact the lymphatic and circulatory system. An opportunity to immerse yourself in a world of freshness and well-being.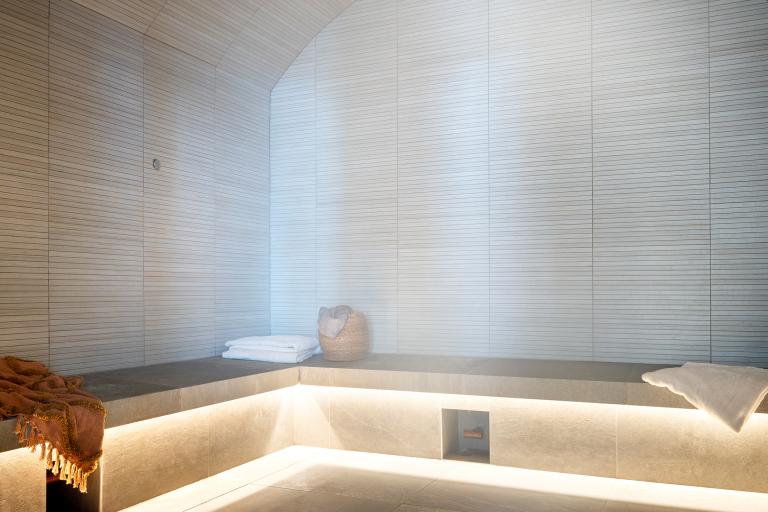 Hammam
In a soothing environment, under the effect of hot steam, toxins are eliminated while muscle pains are eased. A space conducive to the most complete well-being and intense relaxation after a day on the slopes.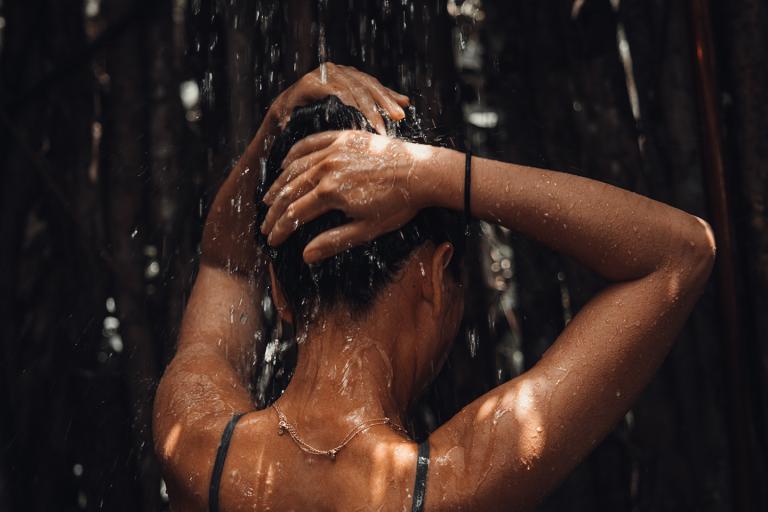 Sensory Shower

This treatment invites you to total relaxation. With its multiple programs, the sensory shower allows you to experience a tropical rain one moment and the singing of birds the next. Combining various features such as chromotherapy and light therapy, this space invites you on a true sensory journey.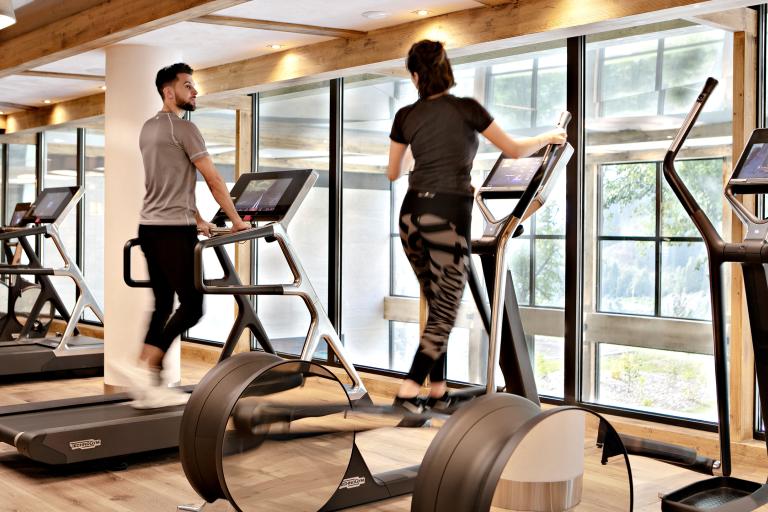 Fitness Room
The fitness space is ideal for easing back into your workout routine, whether it's a cardio session or muscle strengthening. You'll appreciate the ultra-modern and connected equipment.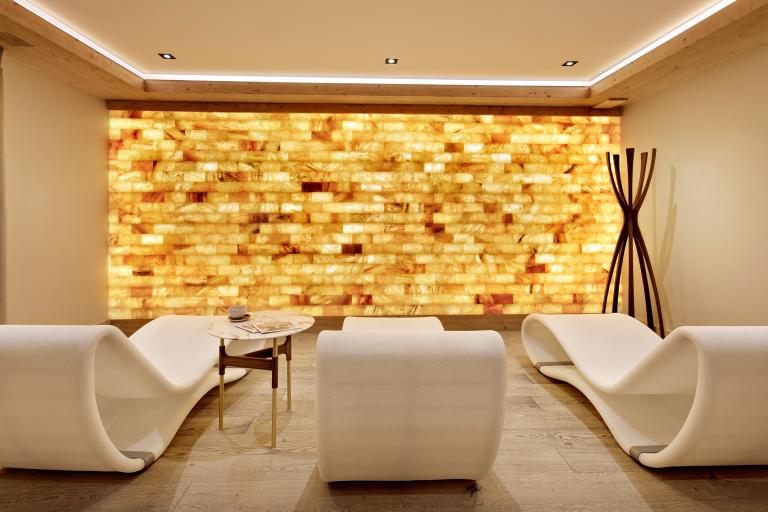 Himalayan Salt Wall
Experience the benefits of chromotherapy as your muscles relax, and your body unwinds while comfortably seated in heated, massaging chairs facing the Himalayan Salt Wall.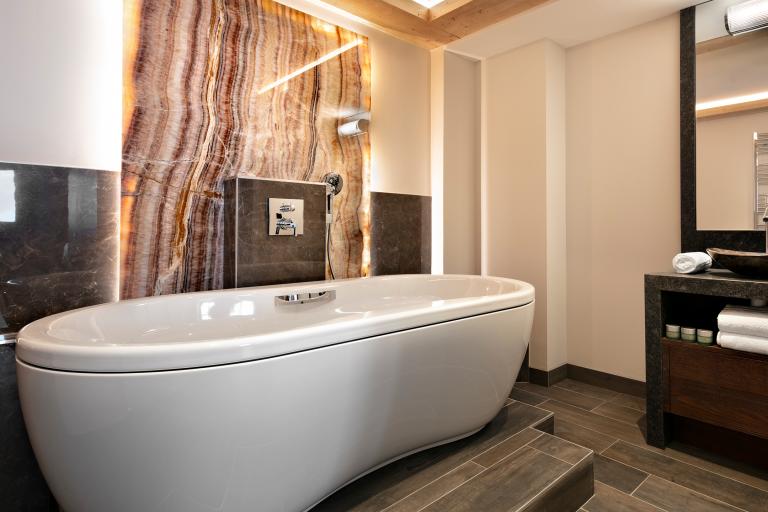 Floatation Bed

Allow yourself to be carried into a state of absolute well-being. As your body is cradled on a floatation bed, you experience a unique feeling of weightlessness. Rocked by the rhythm of the water, you immerse yourself in a deep state of relaxation and let a sense of fullness engulf you.
Treatment Rooms
A few light snowflakes swirling in the air, the sunset glistening on the snow, a sense of soothing vacation in harmony with oneself. That's the inspiration behind our treatment rooms, designed and created just for you, for your special moment. Stone, wood, marble, granite, the scent of wild mountain flowers, wild herbs, sun-dried hay... Alpine fragrances, sometimes floral, sometimes herbal. A gentle and harmonizing journey at the heart of our Spa Montagnes du Monde®.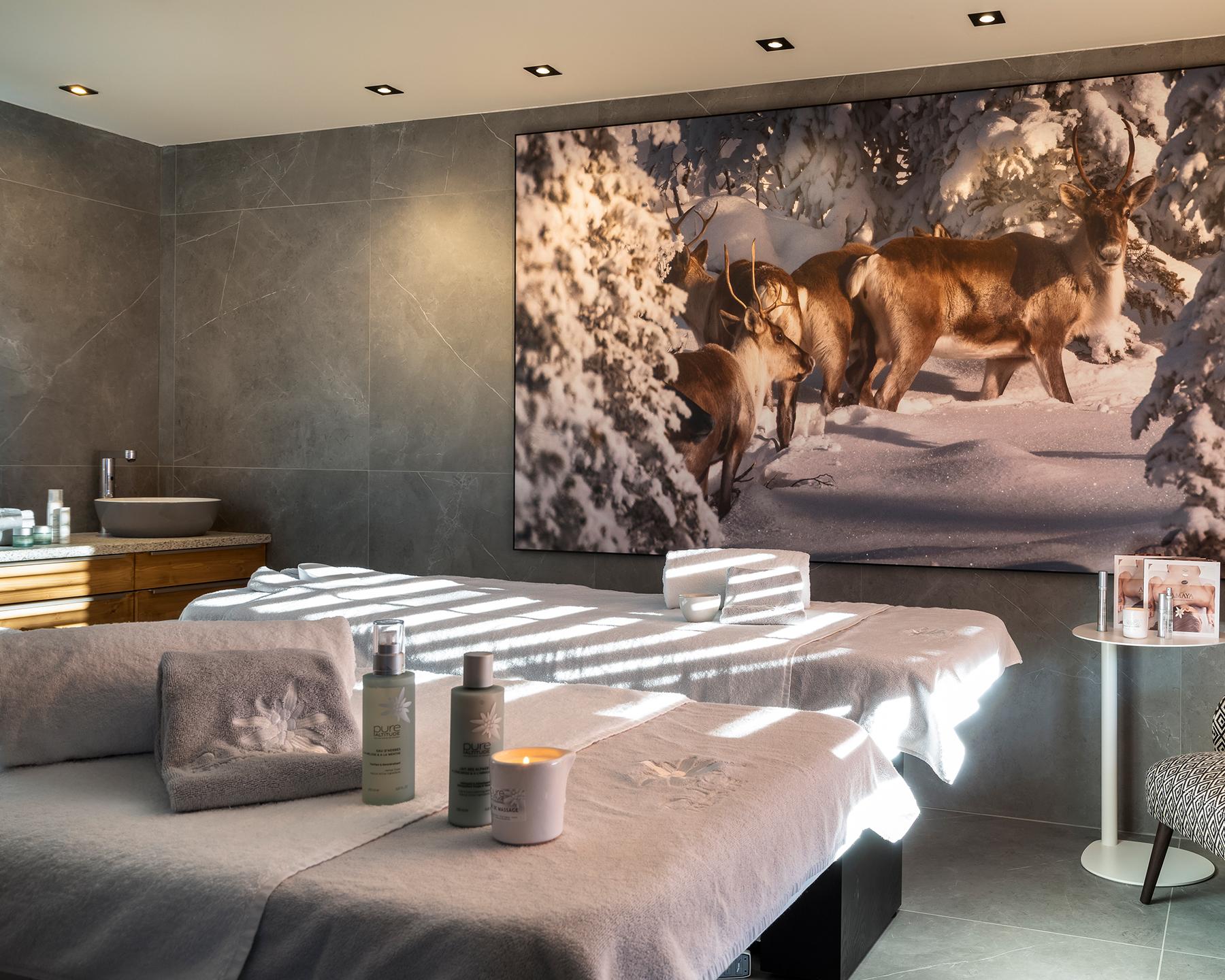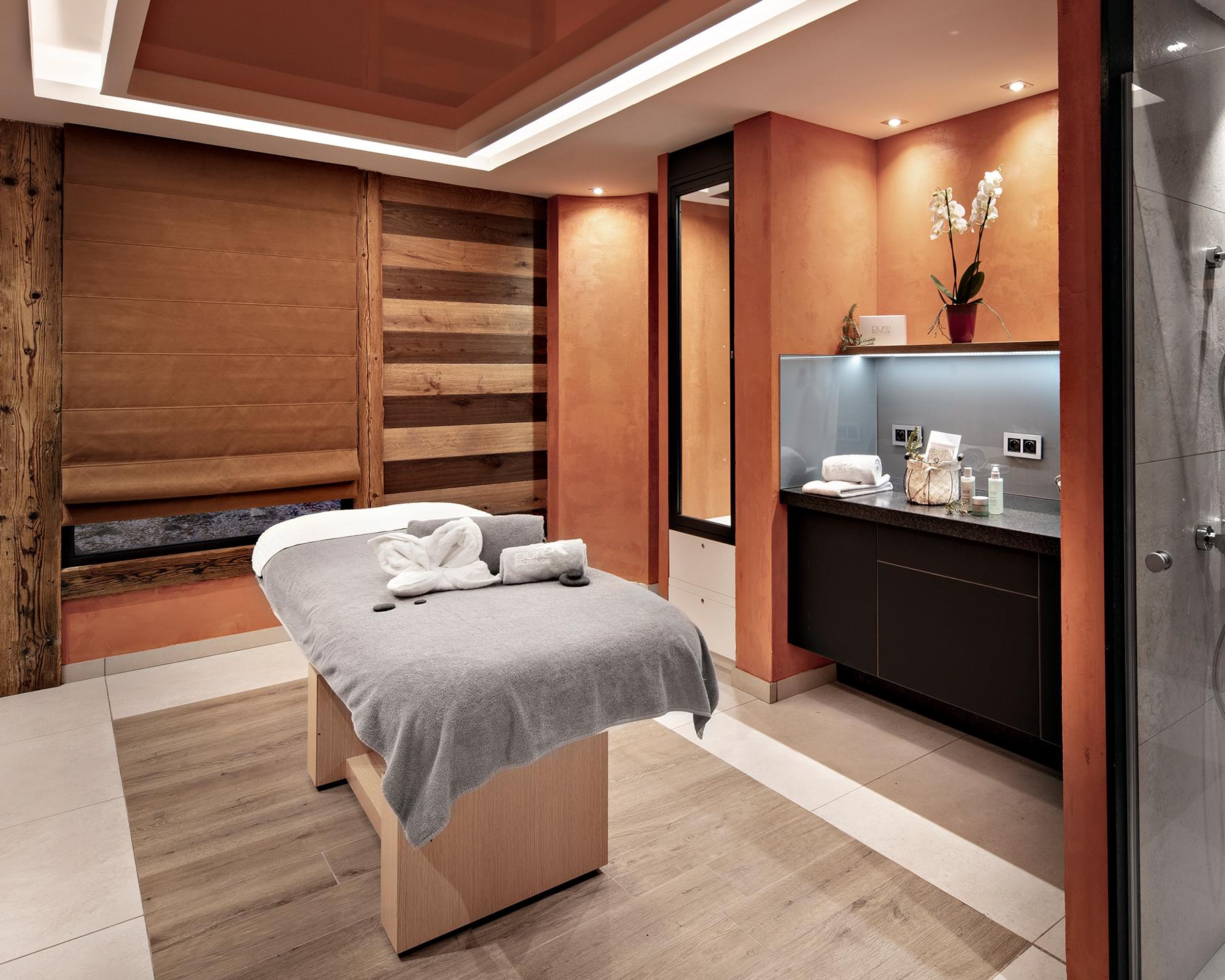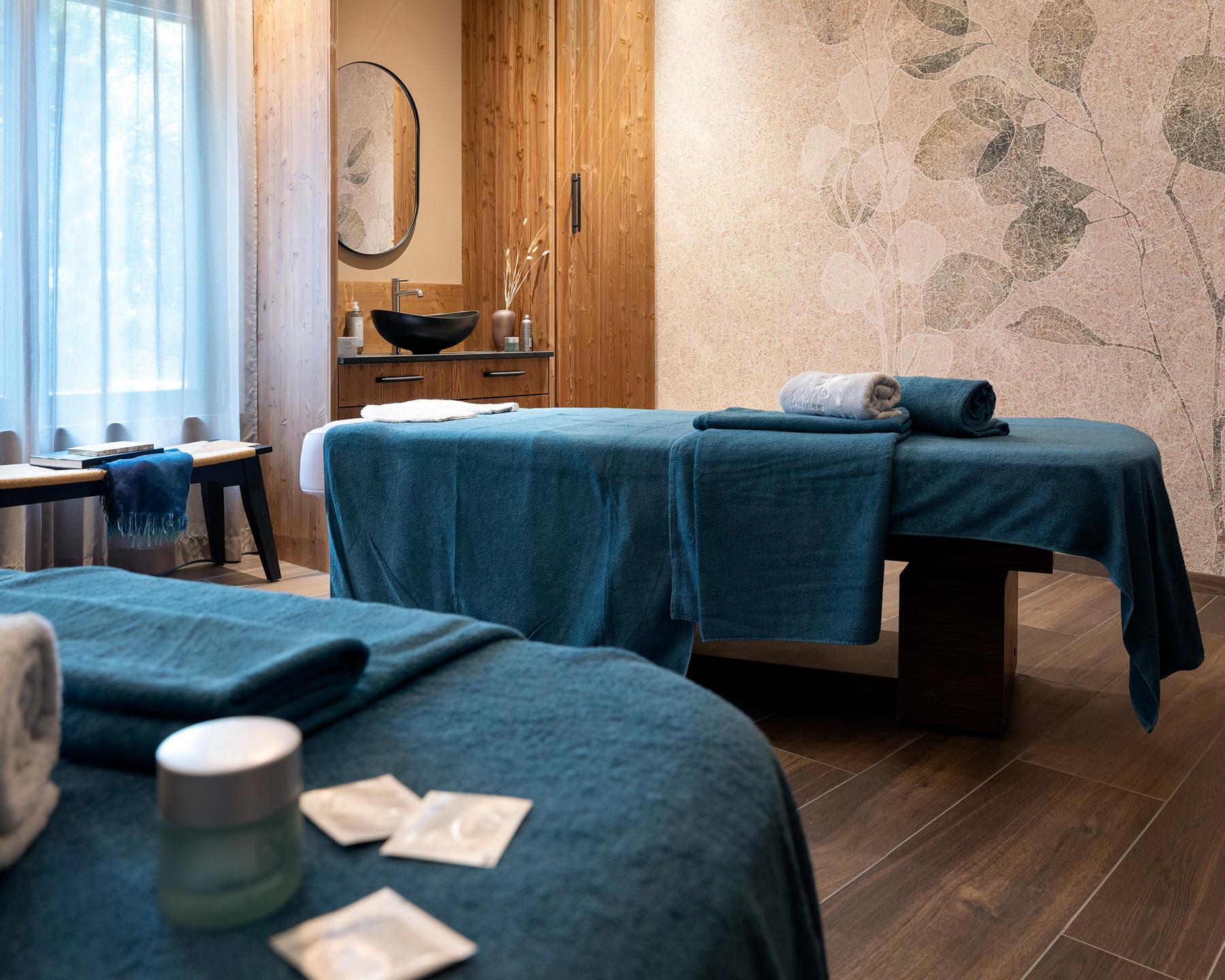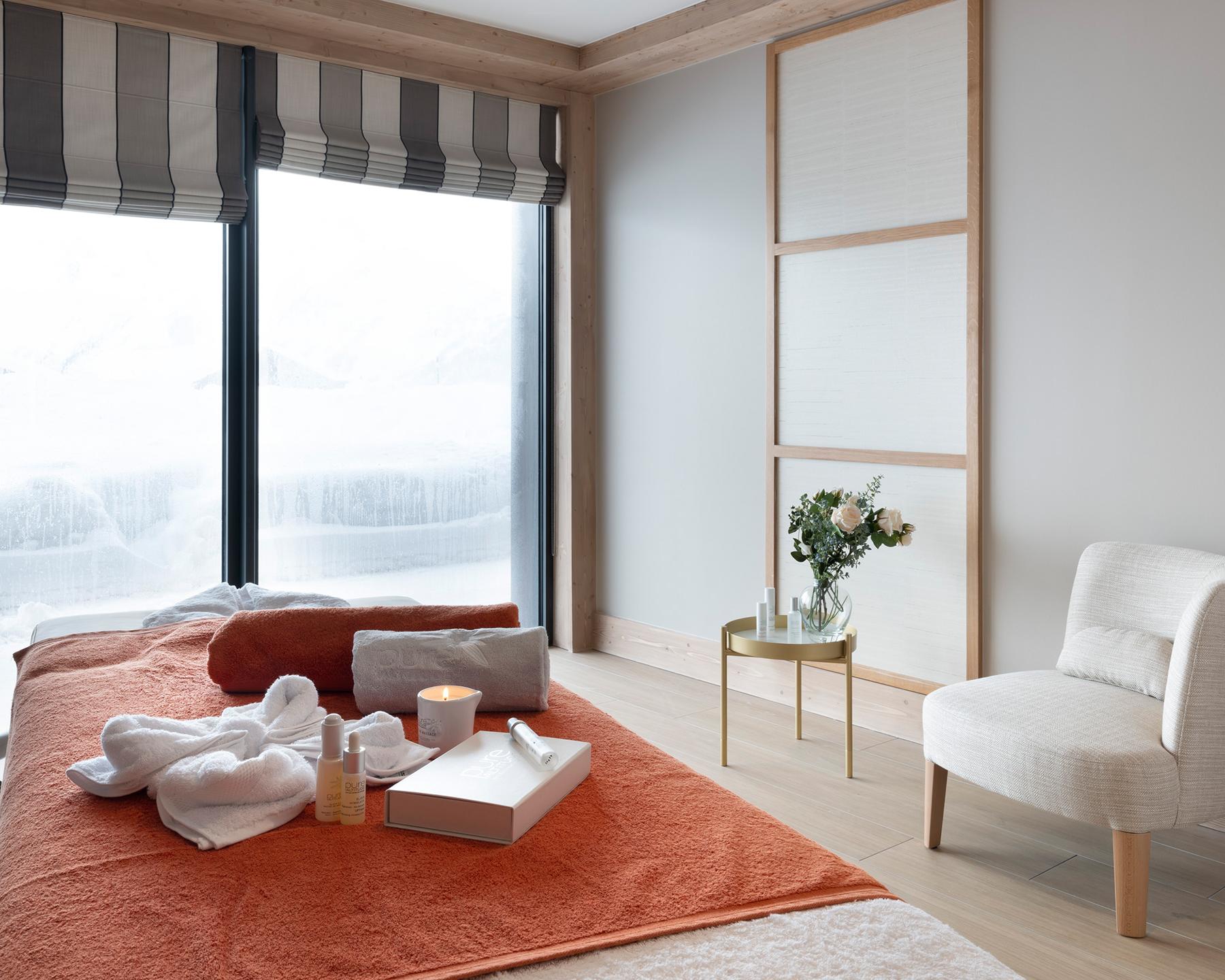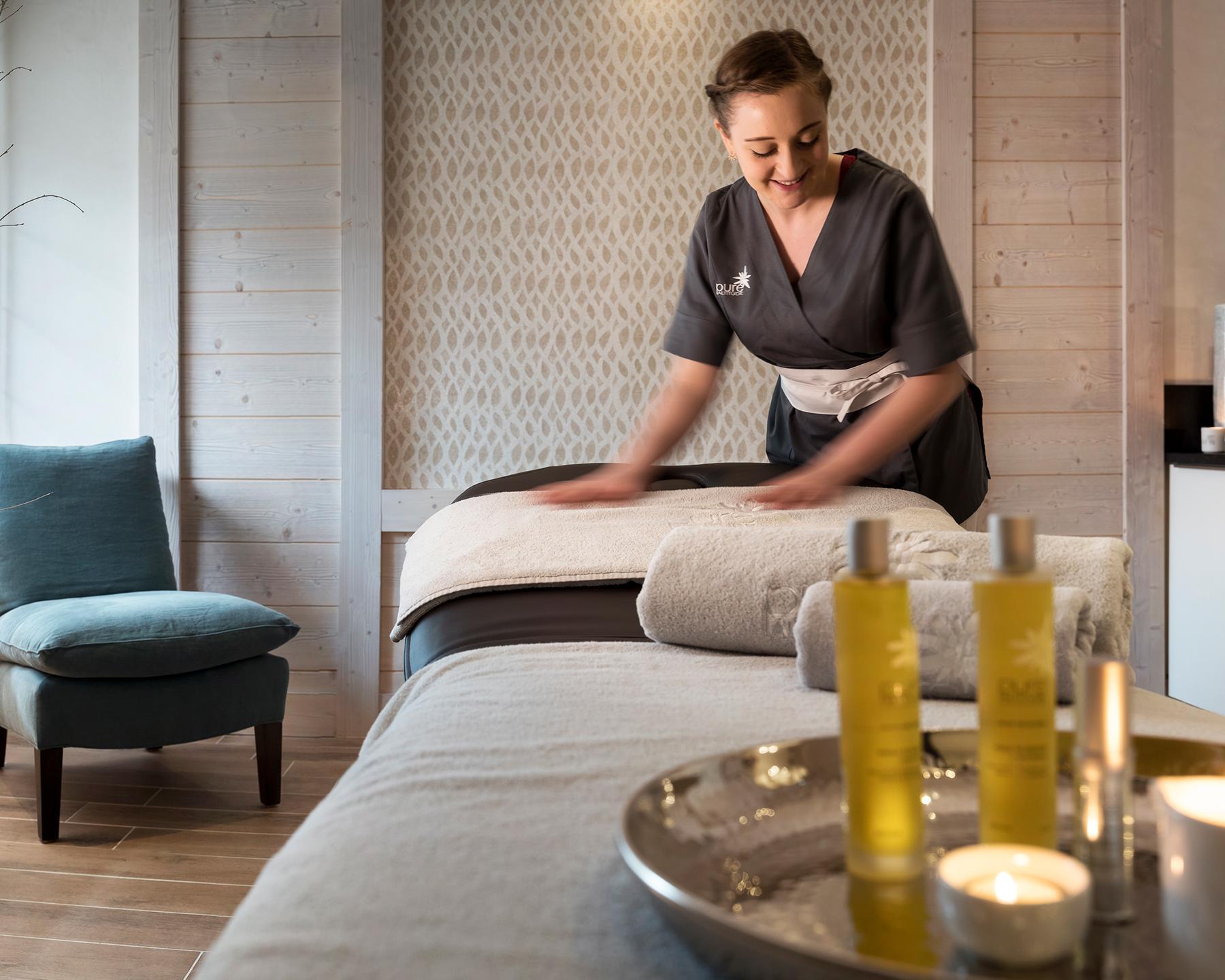 Treatment Protocols
Through our treatments, whether they are massages, body treatments, or facials, we convey a single message: inhale, exhale, and enjoy. To offer you ever more effective treatments and meet your expectations, our teams are experienced and continually improve year after year. Ready to combine the gentleness of their touch with the effectiveness of the active ingredients, they accompany you in this moment of relaxation with the utmost discretion.
 
The Pure Altitude© Range
The mountains are a true source of beauty, a place where oxygen is scarcer, and the air is purer. It's an environment where flora has had to develop its own defenses to thrive in extreme climatic conditions.
The Edelweiss, the mountain flower, grows with its roots in the snow and its head in the sun. By resisting these extreme conditions, it develops powerful moisturizing, protective, antioxidant, and anti-aging properties.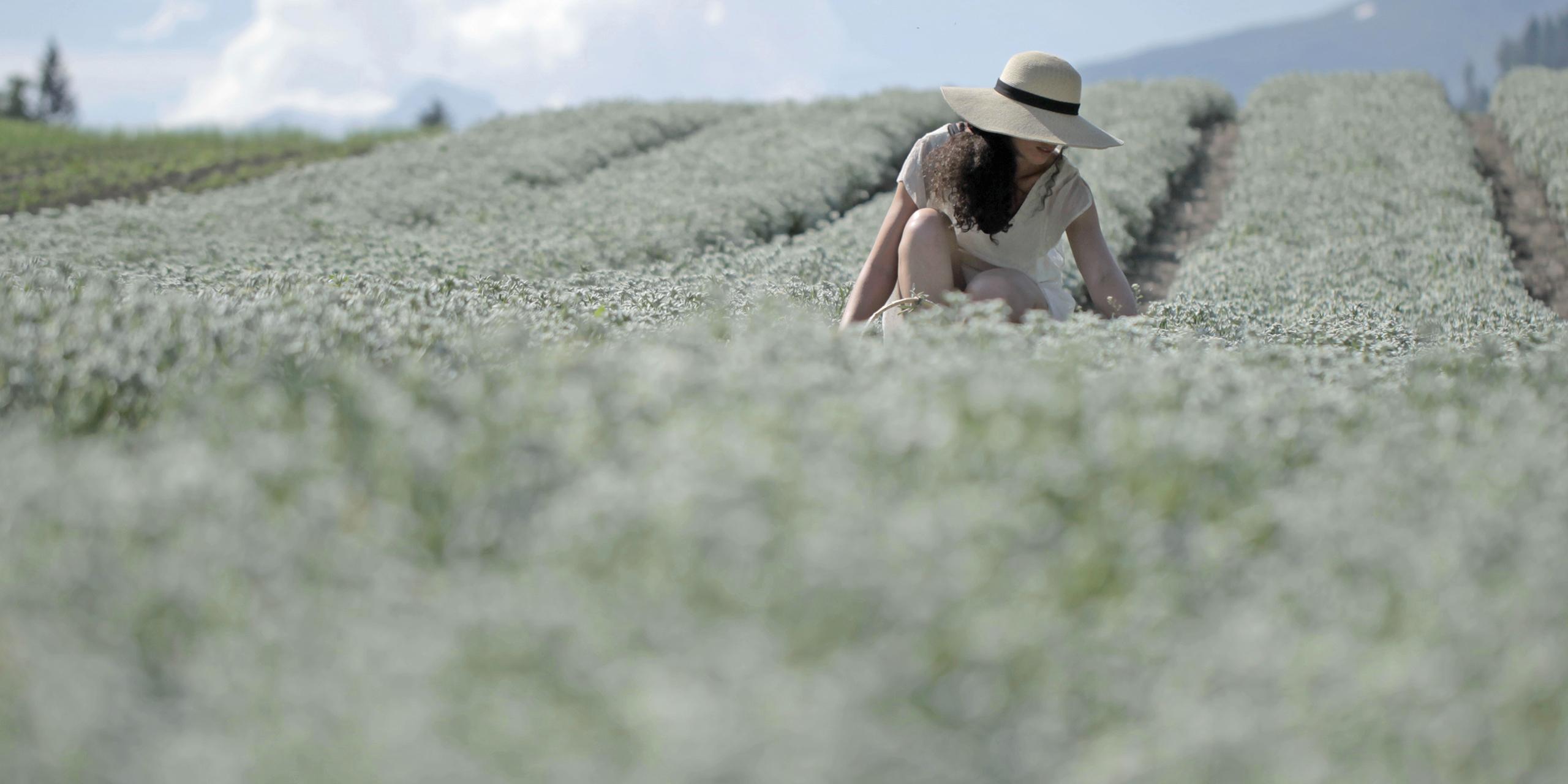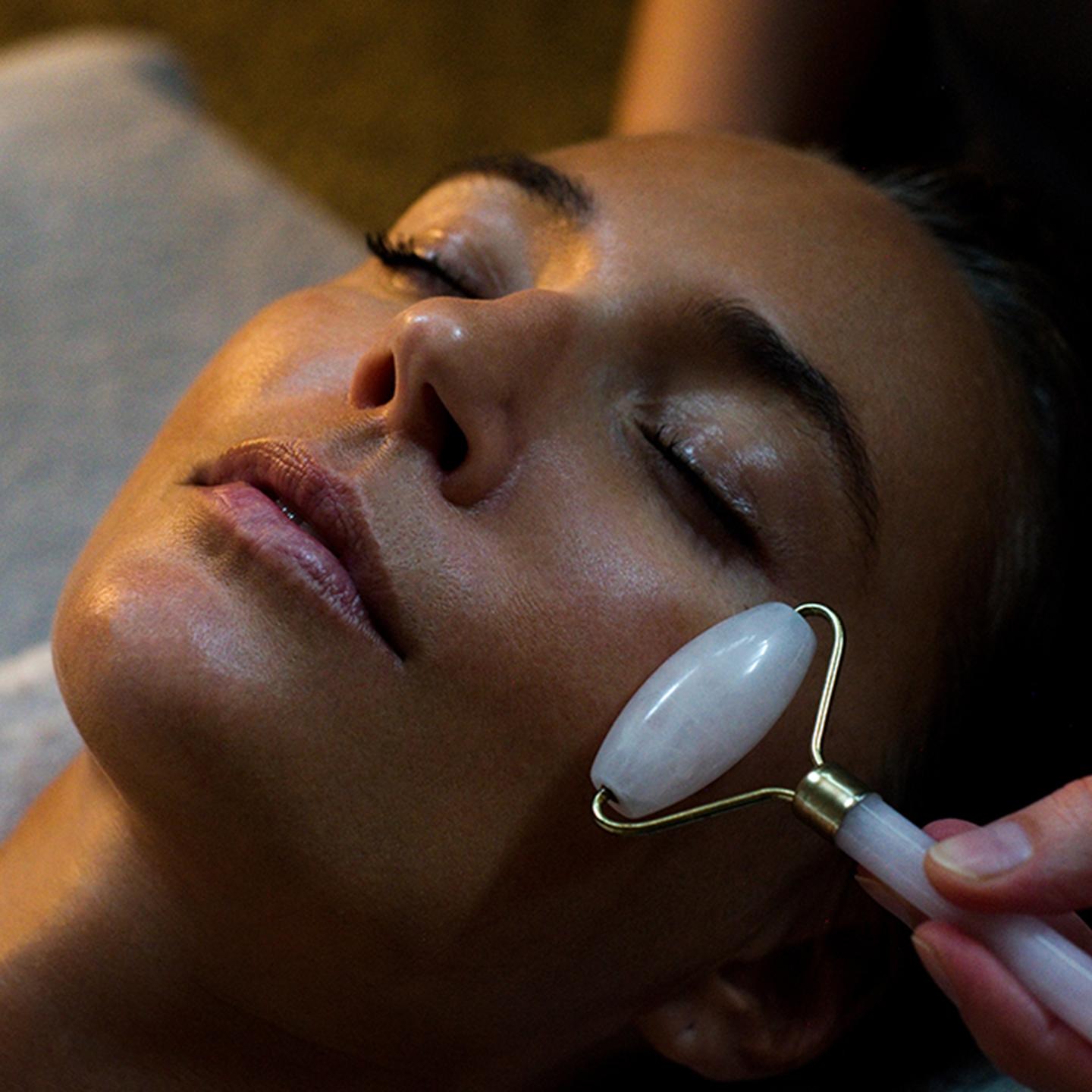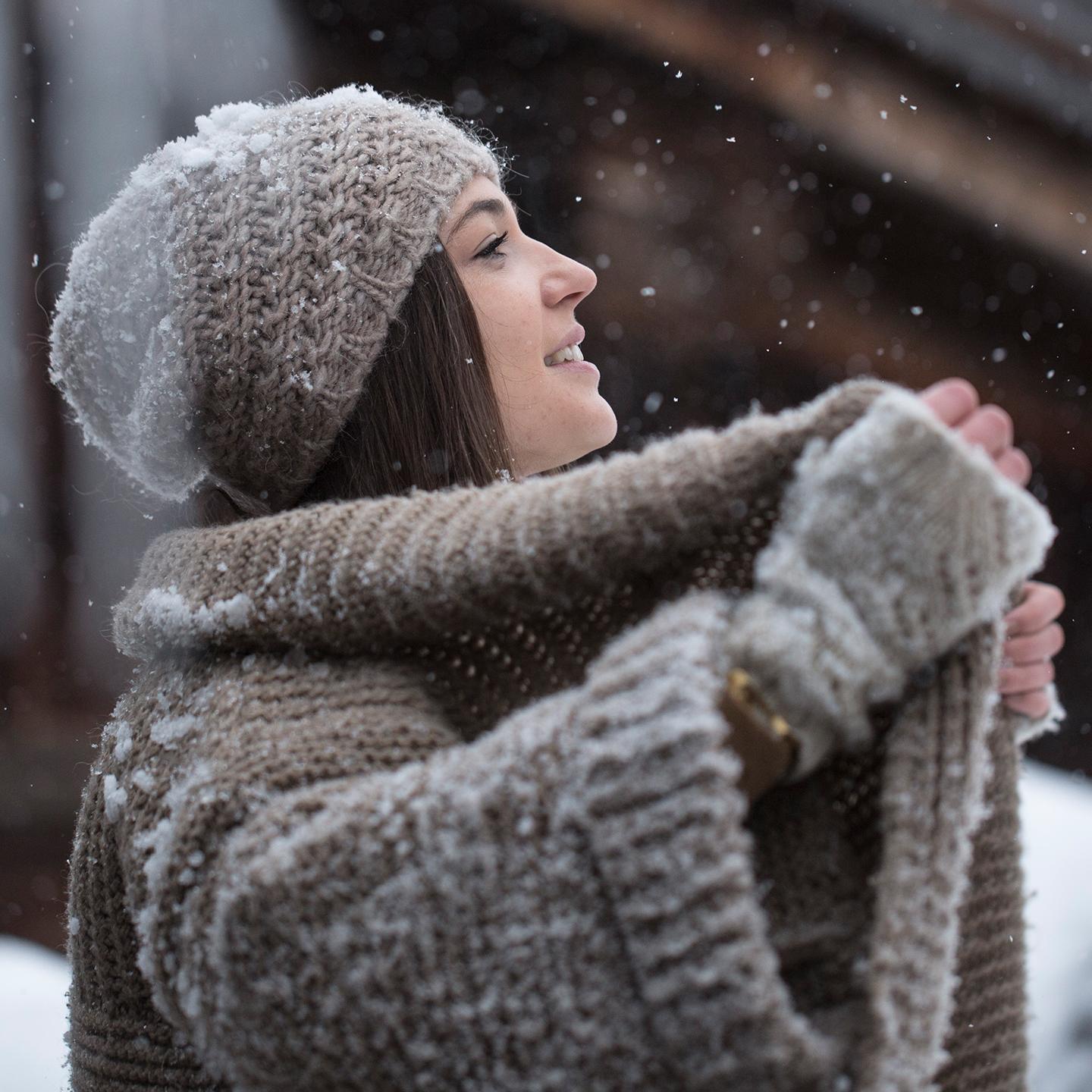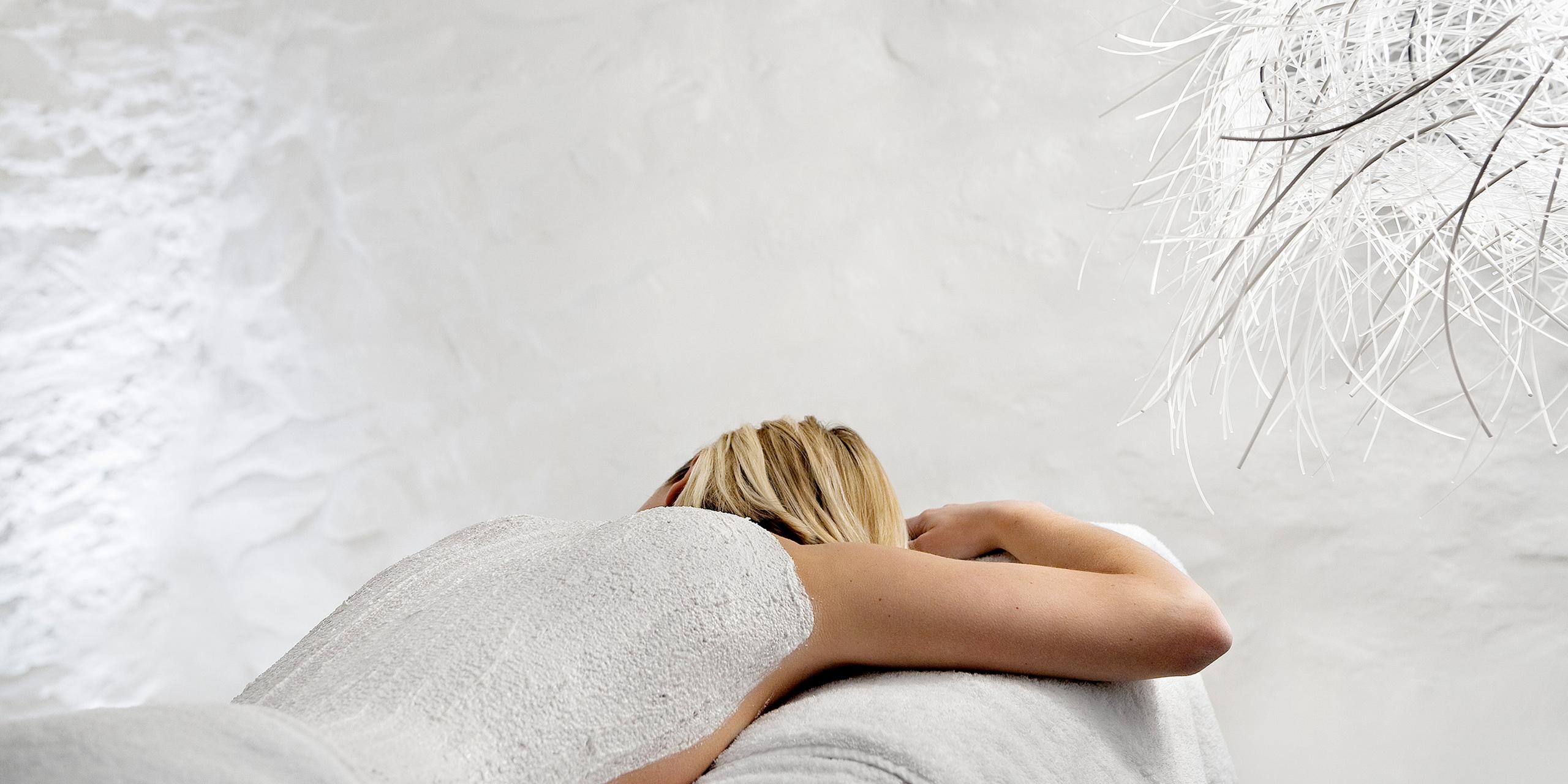 Why does MGM use Pure Altitude© cosmetics? A commitment to well-being and an eco-friendly approach.
Cultivated in Valais, Switzerland, as part of an environmental conservation program, Pure Altitude© cosmetics, in combination with dozens of other mountain plants, provide all the benefits of the products used in our treatment protocols. This reflects a commitment to well-being and an eco-friendly initiative.